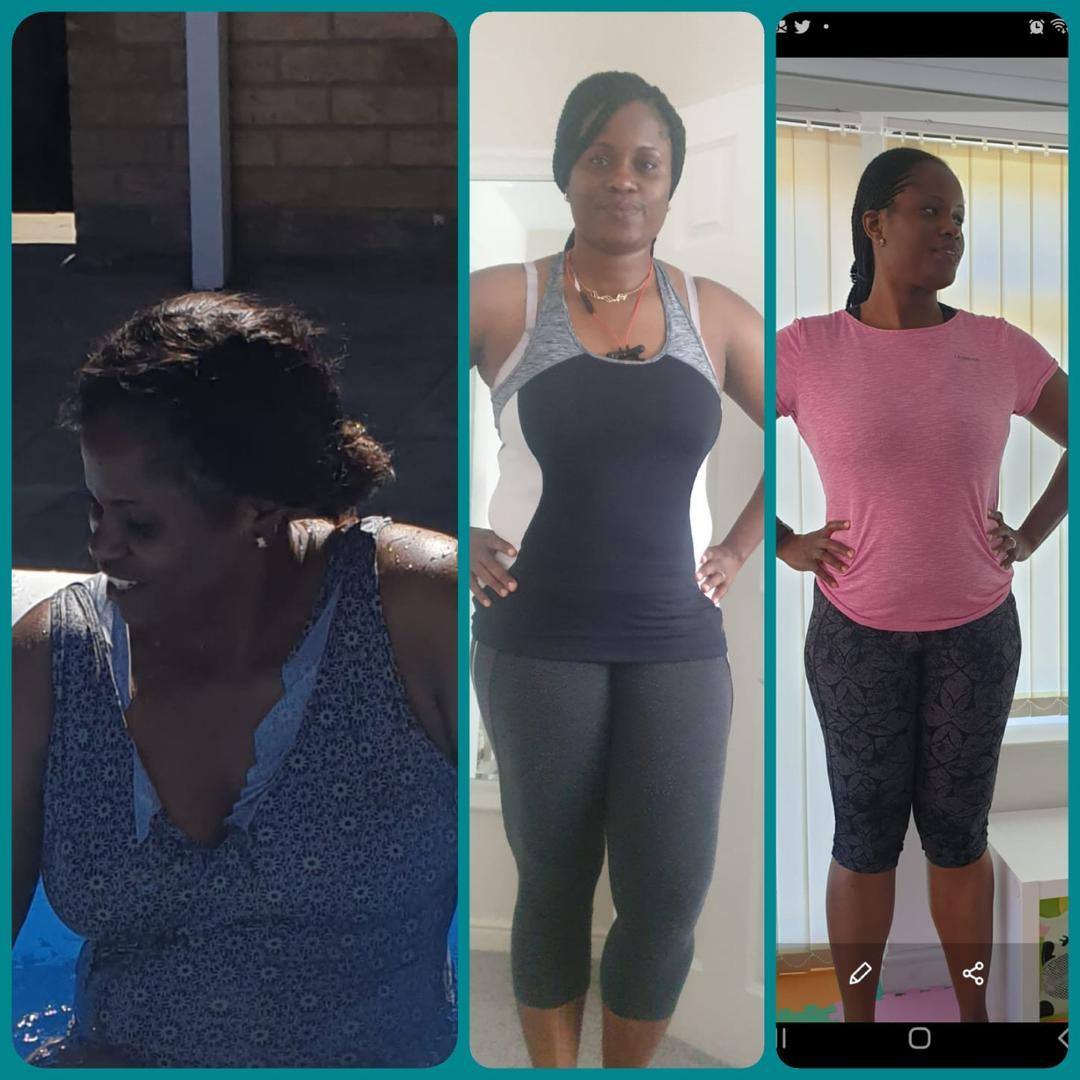 I have watched myself add weight just from looking at TV adverts of food.😁 But in may 2020, I had a chat with a previous mentee turned big woman and towards the end of the conversation, she told me about her new business, helping people lose weight.

In order not to let my mentee down, I said I can do it and took on the challenge. Men, it was tough! cycling, weightlifting, walking averagely 15km briskly every day, clean meals, lots of water. Etc. It was a life-changer. But as lockdown dey na, it transited from a hard chore, to become part of my daily routine, then I fell in love with the outdoors, fresh air etc.

This all started in July 2020 when I weighed 104kg. I set out to lose 20kg in 90days.😳. Crazy right! Then between day 74 and 80, I was so stressed and struggle to fit in my exercises into my full-on days. At this point, I had started putting on weight and crept up to 97kg.  Then I bumped into one of Onome's daily send of I'm alive today and grateful to God where he sometimes celebrates people who have lost weight.. men I was thrilled by one guy that lost 15kg in such a short time. I wondered why my own dey tey…🥺
So I called Onome and he was thrilled to know I was exercising at all. He encouraged me in a rather harsh way, that I should continue.

basically, his words were, meme, if u dey weight person to encourage or ginger you for this weight loss mata, you go old o!, na to just pick up yourself face the mata and win. With what you are doing, just keep up. No aim to beat any person record. Just do yours at your own pace… hmm.

So the next day, i returned to walking, then added intermittent running.(gosh, I remember the first episodes of running… I almost collapsed) but little, I carried on. And today, I'm 90kg lost a total of 15kg.
I'm still on my journey to 80kg where i will just be right for my height.

Remember when sunshine ice block must melt.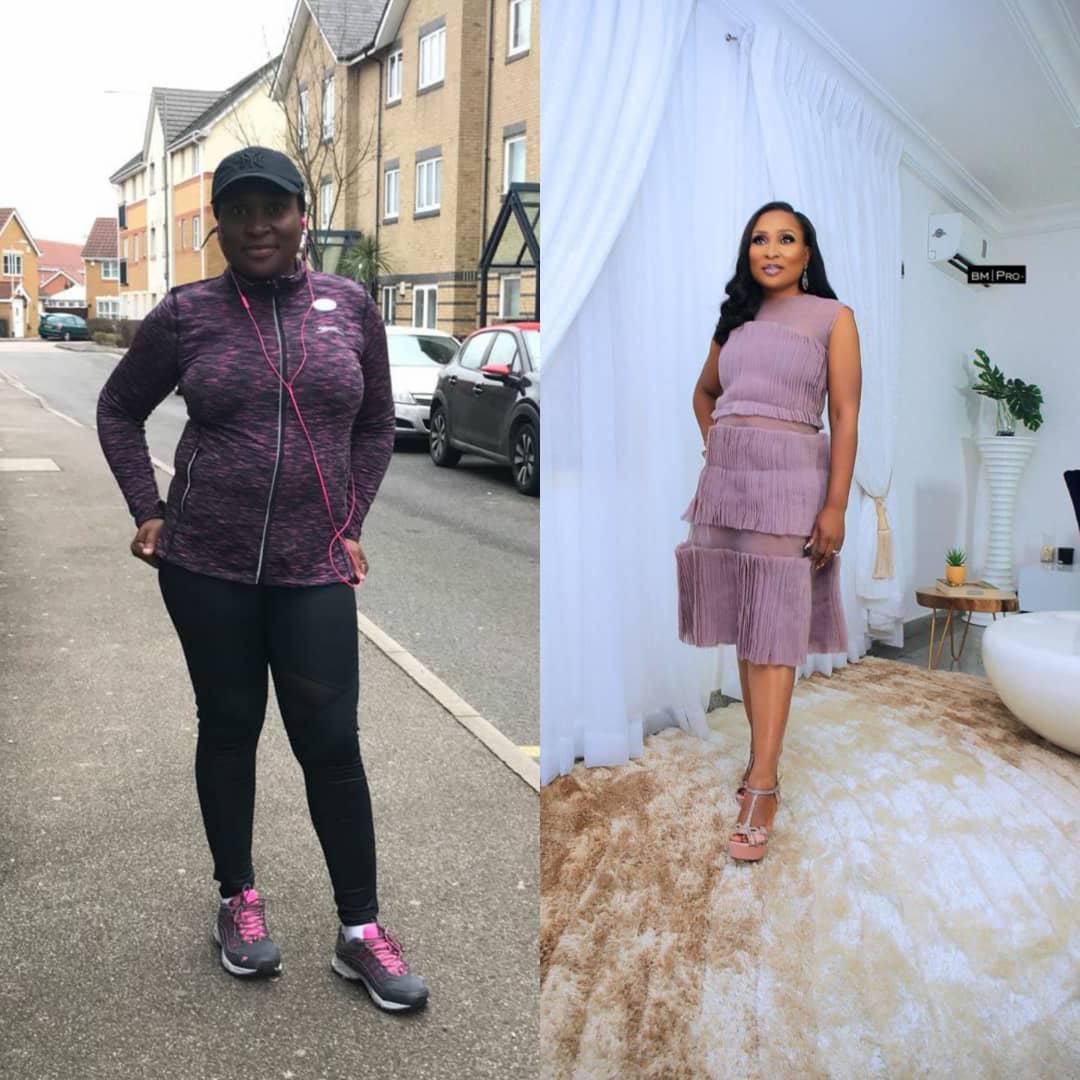 I have always exercised on and off for as long as I can remember and always on one crash diet or the other but after a while, I decided I was no longer going to pay anyone to lose weight.

It is all in the mind I thought and so during the lock down in March,  I just decided that it was either I came out of the lock down with the same weight I had on at the start or I came out having lost some of the weight.

Seeing as my birthday was in October, I decided to set myself a target. I was about 73kg when I started and my aim was to go down to 60kg( I was laughing at myself when I set the 60kg target but i thought to myself well! even 65kg would suffice)

Anyways, as always I was on and off with my diet and exercise from March till June. I felt like something snapped in my brain in june and I started running and walking about 10km a day. I then moved onto running btw 15km to 17km Monday to Friday and 25km to 32km running and walking on saturdays then I would rest on sundays. Gradually, I began to see the weight come off and by the 16th of  October(my birthday) I was 59.6kg.

I would like to add that I didn't particularly go on any healthy diet but I cut down on carbs and was doing more of protein and sometimes I would only take in liquids. I think anyone can get to their target weight with alot of determination, consistency, the grace of God and will power.

The benefits of walking and running are endless, I started sleeping like a baby, my skin was glowing and I was generally healthy and fit.

by: Mrs Ayesha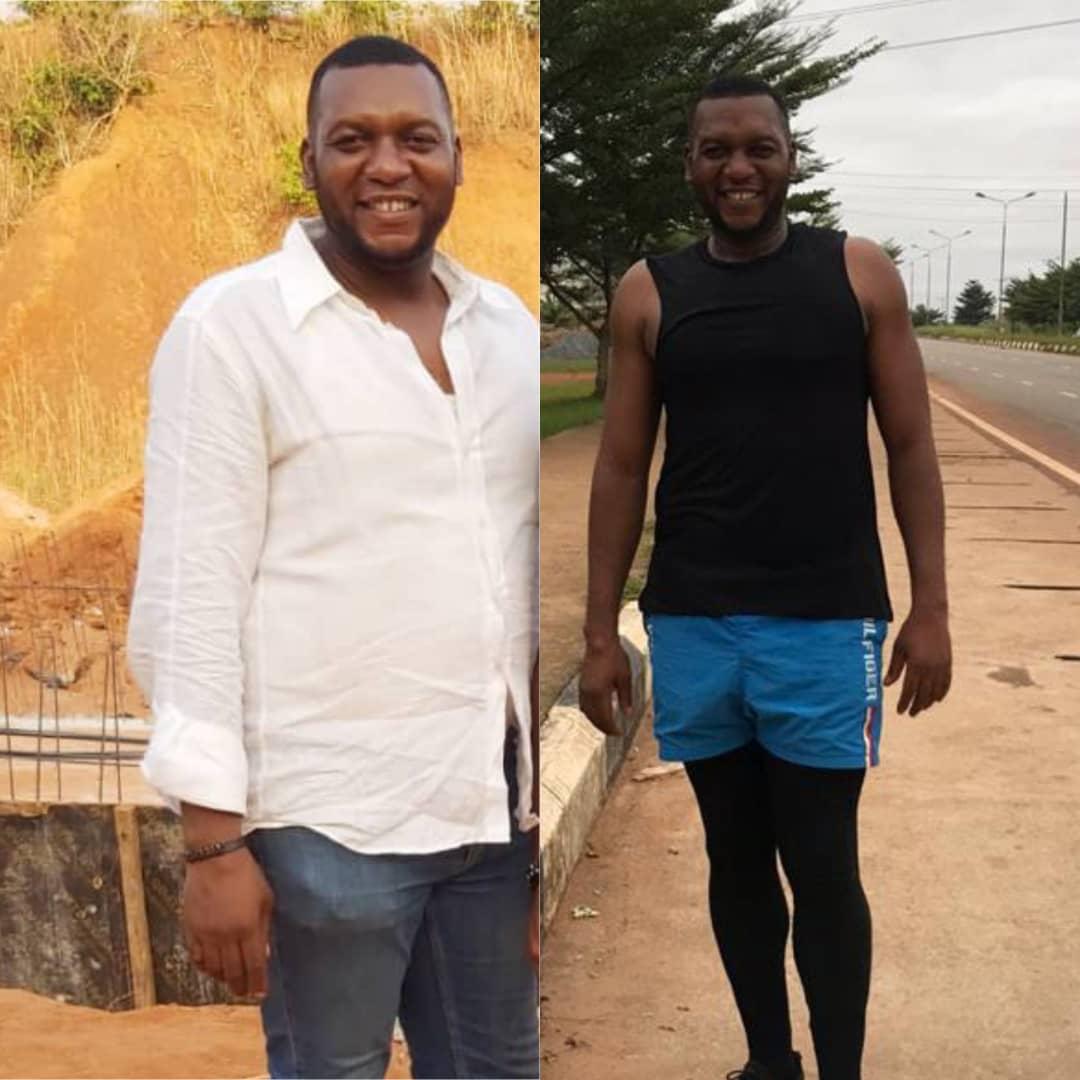 Well my running experience has been fantastic and amaizing.
I started running bc I always had difficulty in breathing and fatigue was my twin .
I found it difficult to climb the staircase in the house ..when ever I did, it was serious work for me, so prior to covid 19 lock down, I knew that if I didn't do something abt my weight urgently I might die or my health would be easily affected

I was weighing 115kg as at February 2020

I joined the kilometer run in March during the total lockdown.

We started jogging for 1hr daily and also do some exercises as a group here in Benin city

My breathing is better now and I can climb the staircase in the house without any hassles

My weight has reduced to 105 and dropping even further , I am now a happy man that is very fit.

by: Mr Okwueze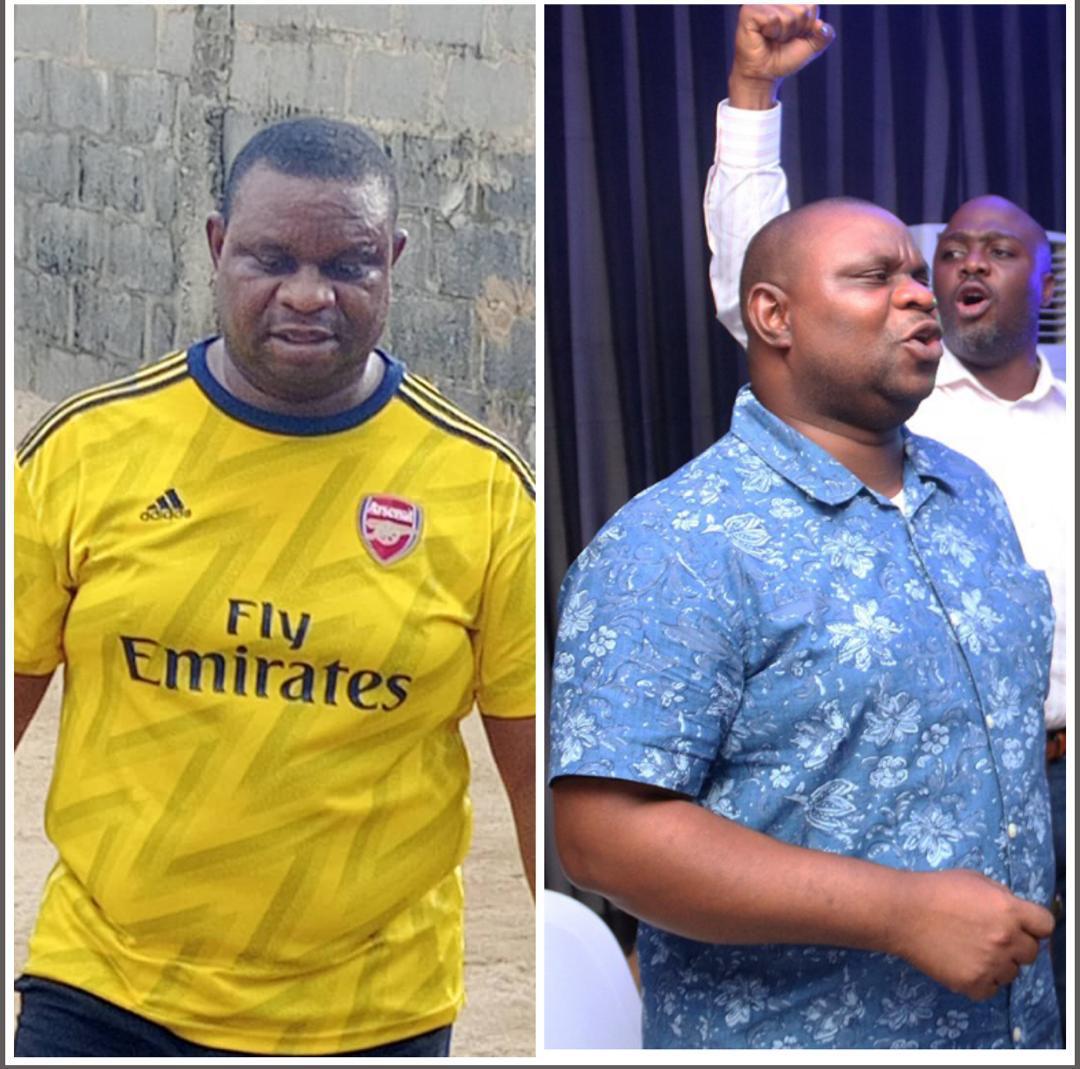 I started walking in March 2020 during this lockdown issue Bros I was almost 127Kg.
I was already 125.6Kg b4 I started my walk..But I don't eat at all in the evenings except on very rear occasions..Or only on Saturday cos I do the most walk a minimum of 10km

Na u ooo and then baba Shege put the ginger in me I now weigh 111kg ( this was as at July 2020) so definitely he weighs lesser now )

Bros all my clothes don big.. my office people don't believe that this is only from walking they say I am drinking something to lose weight 😀😀
Abeg continue posting those ur walkout ooh na encouragement to me

Bros. I still have 7 months to go for my project. Na 12 months project I dey so oh … Operations drop weight.. I nor joke ooh

Onome. Even me I will never rest until i reach 105. On Saturday. I felt the benefit of the small weight I loss I can actually run freely and move my foot faster than before.

by: Mr Ken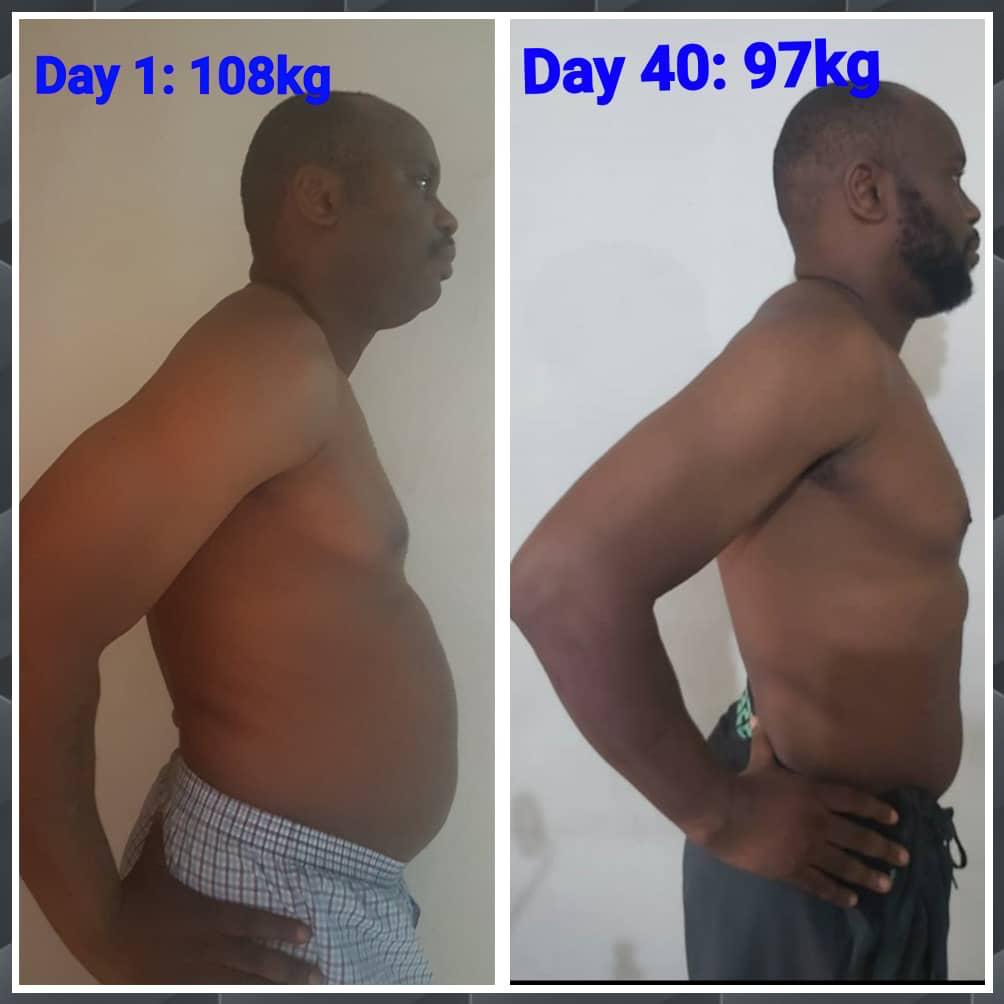 No Gimmick.
I started off to show my clients it was possible.

As a former athlete & olympic gold medalist, I had always been active, but, that was no reason for a fit body.

My weight gain was deliberate over the years, to prove weight can be lost with a well defined professional program.

I gained weight from 100kg to 107kg in a year and then when I started feeling sluggish, lazy and heavy, I decided it was time to prove my program is effective.

I gave myself 12 weeks to lose all the weight I gained, but, I lost much more in 9 weeks. So……I present myself as the experimental scape goat which proves my DiEx Combo weight loss System works.

It's a scientifically backed diet & exercise program.

With discipline and belief, your success would exceed your expectations.

Many are succeeding with it..you can too.

WhatsApp me on 08023528404 for more info.
Program package cost N65,000.

by: Mr Enefiok Udobong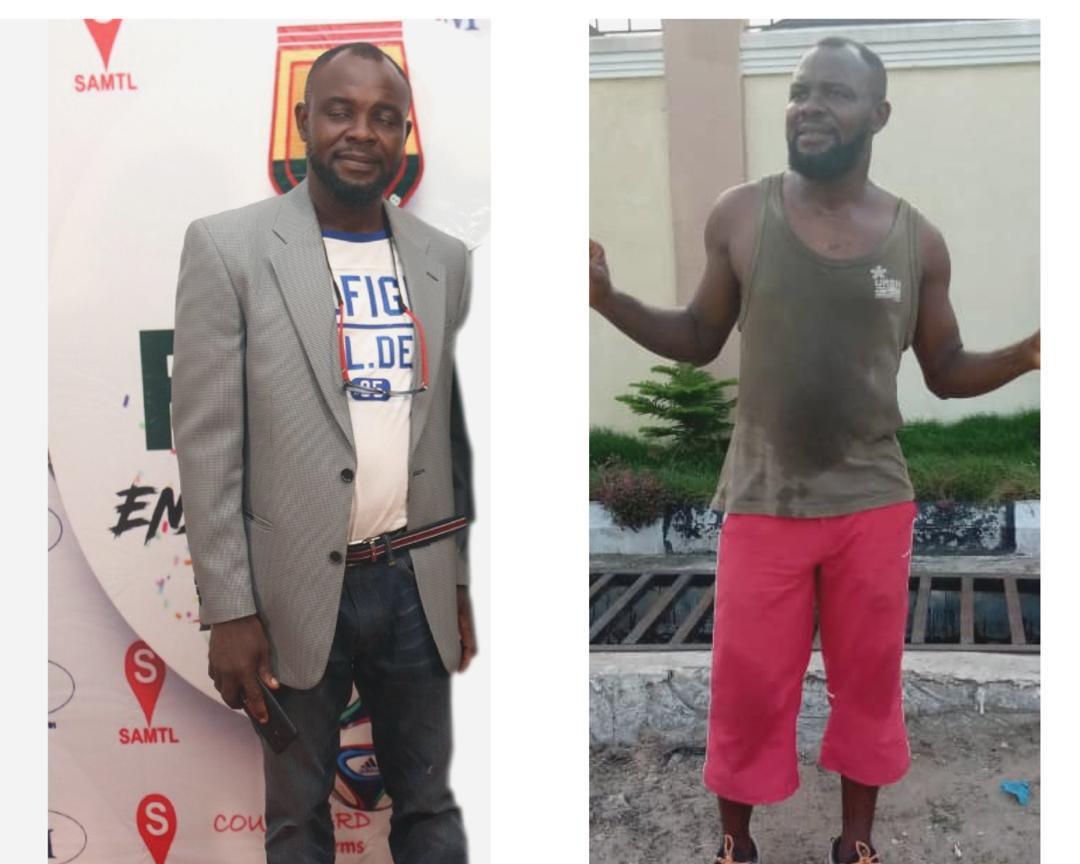 I like to say that my running experience has been very interesting. Everyone has a reason why they run or do excises but mine personally was basically to push down HBP. In November 2016, my BP rose to 280/260, i suffered Stroke and was partially paralyzed and was bedridden for 2 months and could not move one side of my body, Miraculously God healed me and i was back on my feet again.

I joined the 4km run in March 2020 during the total lockdown.
4km daily run has provided me the opportunity to be very fit as well as putting the past into the history bin. The daily run and medication has completely brought down my BP to 135/85. The next target was to do the 4km within 30 mins, with encouragement from other runners my timing improved greatly and was so proud when I ran 4km in 20 mins.
Apart from timing, my endurance and persistence level has improved greatly.

It was not all roses as i also suffered some pains groin, ankles pains as well as chest pains while running. I remember a day i had to stop at 3km to avoid the stories that touch. (Laugh). Running is a way of life that i have come to embrace.

I want to encourage everyone to exercise as this could be a cure for other hidden ailments in our bodies. As a Christian the bible says bodily exercise profit little, I am prepared to benefit that little, so I won't quit running as it's the new lifestyle. We go again tomorrow.
Thank you

by: Mr Victor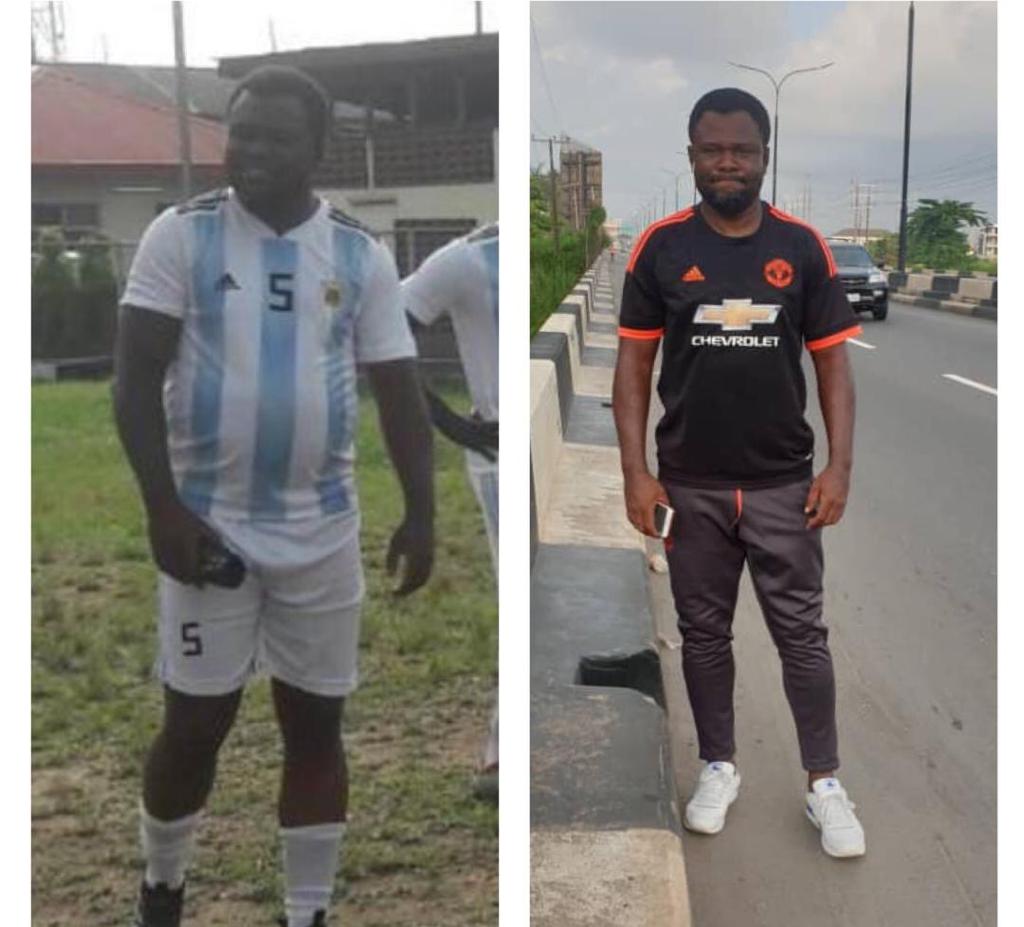 I'm alive and grateful to God almighty for life

Today we celebrate another gang runner whom has been transformed by this new normal

A fantastic footballer , a great team player , a sports man with his own style the one called the Maverick by Chief Segun Odegbami and his fellow parliamentarians, star player by his Galacticos brethren , bishop by his firm fc brethren… etc

December 2019 he was admitted in hospital for a long time for very high BP .. he left hospital after some days and started to run inside his office estate on the 1st of February 2020 determined to use sports to relax his nerves and allow his BP to "calm down"

As at March 2020 during the lockdown Mr Lati of Galacticos aegis then neighbor introduced him to the long 8 kilometers walks ( although Lati ran away when d matter tie wrapper 😃😃) which he enjoyed but he needed more so he joined the 4K gang lead by general paul Kombol of firm fc and started running 4 kilometers four days in a week under 30 minutes… yet he still wanted more so he started yoga classes in April 2020 and began to gradually gain proper fitness by May when he took this picture on the right he was weighing 99kg from 115kg in December when he was admitted in hospital .. today he weighs 95.7kg as at August 5th 2020 and his large fruit of the womb is gradually disappearing ( noto one day d womb go varnish na )

He ran 9.13 kilometers yesterday in 1 hour 20 mins

He is onome obruthe .. he is encouraging you all to get up and do some sports this Saturday morning and gain the benefits.. like he says
Don't make your medicines become your meal .. live right and stay healthy so we don't do gofundme for you where exercise can sort you out

Do some exercise today and thank God for life via good health

Join the gang and start running … have a good bye

Remember nothing them dey take wahala do …

Next week we shall celebrate another gang member … stay tuned

by: Mr Onome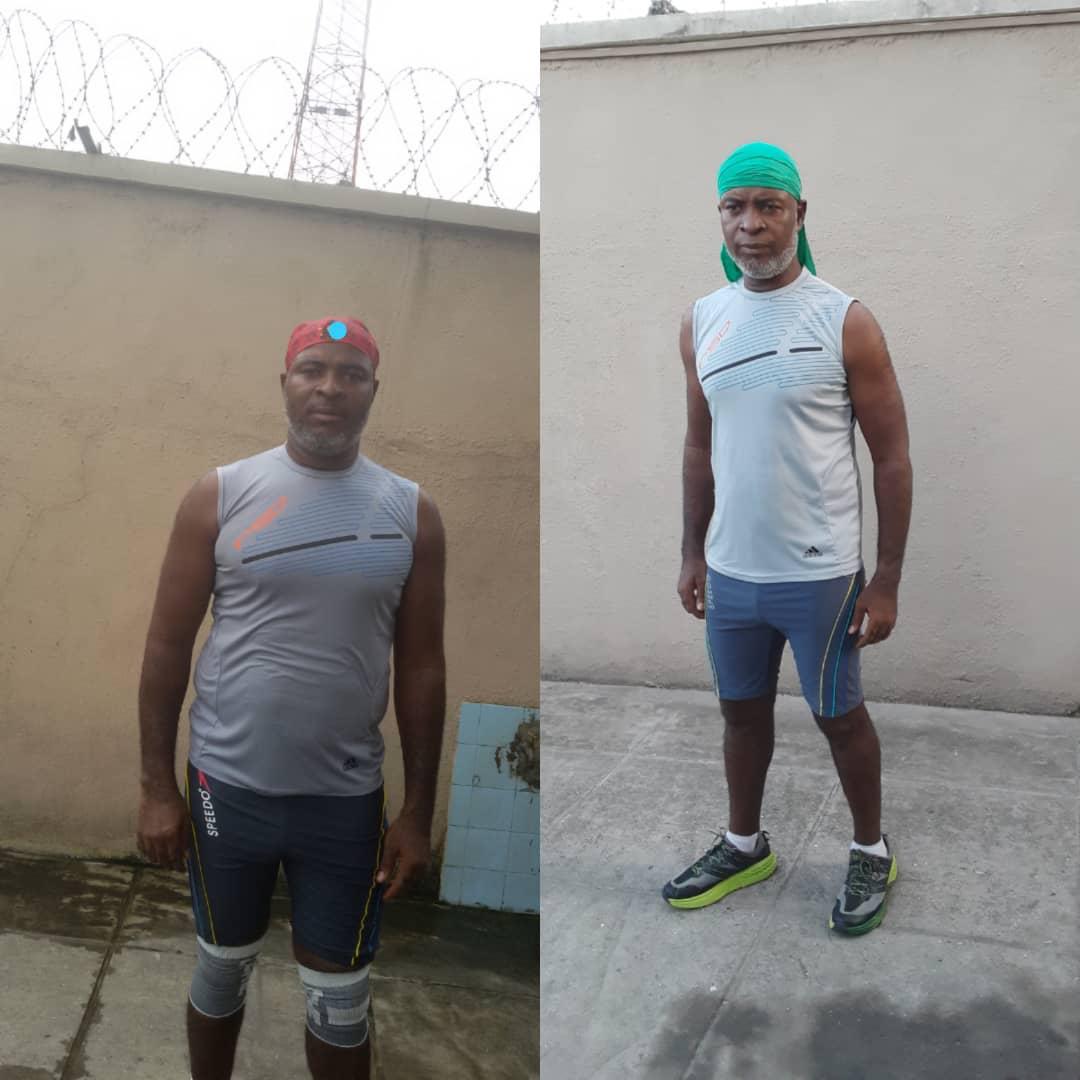 I am very lazy with strict dieting. I cannot adhere to regimental eating style for long. I eat normal, I try to avoid eating after 6pm, I have also introduced a lot of veggies and start eating from 10am to 6pm..a pretender with intermittent fasting. If I can maintain the rules I would have done better… I drink a lot of water now, but bottom line is running an average of 5 times hitting about 60/80km per week.

by: Mr Paul
I used to be very active playing badminton at least 3 times a week and using the gym often. When I became President of BFN, it became more difficult to maintain this routine to the extent that two months could go by without me playing once or entering the gym. In March I had put on much weight that I weighed 109kg.

With the lockdown I decided to go back to my exercise routine as there was nothing much doing. I started walking and running 5km every morning and gradually increased to 21km. I got more disciplined with my diet watching what I eat, the quantity and having my dinner not later than 5pm everyday. I went off all soft drinks and other drinks drinking only water.

I increased my intake of vegetables and fruits. By June my weight crashed to 95kg before I took ill (Another story for another day) and my doctor told me that my exercise saved me. By August I was back on my feet and I now walk and run 14km everyday taking Sunday and one more day off in the week. I joined an online challenge in May and as at today I have clocked over 800km.

I would have been over 1,000km by now but for when I was sick for over six weeks. I now weigh 90kg which is where I intend to stop being the ideal weight for my height of 6.2ft. Running for me has been a wonderful experience and I will never go back to Egypt. Exercise for me has become a way of life and it is for me a lifestyle choice. This experience has further reinforced the saying that "impossible is nothing" as you can achieve anything.
SOME
TESTIMONIAL

PICTURES